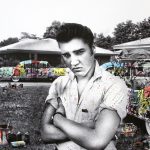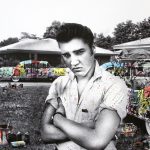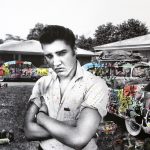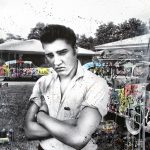 Happy Birthday Elvis!
Cadillac King
Art and music collide with a new edition print series featuring the King of Rock and Roll, Elvis Presley. In honor of keeping Elvis's legacy alive, Mr. Brainwash has remastered the classic icon on paper for a new series of prints.
One color screen print hand finished with watercolor on archival paper. Each screen print  is signed and numbered, with a thumb print on the back. In addition to the standard edition, an edition of 12 with even more work will be available.
Edition of 50 and 12
Print Size: 46 x 30.5 inches
Shipping is estimated at 1-3 weeks on all domestic orders and 2-4 weeks on all international orders.
All Sales Are Final. We will not offer refunds or exchanges. We are not responsible for damaged, stolen, or lost orders. Only one of each per customer.
Elvis Presley™; Rights of Publicity and Persona Rights: Elvis Presley Enterprises, LLC.
Artwork © 2019 Amusement Art, LLC
elvis.com